EXHIBITIONS, PERFORMANCE, PODCAST
Facts & Figures
Initiated in 2017 by HafenCity Hamburg GmbH, the experimental cultural programme got underway with the appointment of Ellen Blumenstein as HafenCity Curator. Since 2018, we have been operating as IMAGINE THE CITY and are supported by the independent, non-profit association Kunst und Kultur in der HafenCity. So far we have realised more than twenty projects involving almost 100 participants, co-operated with eight cultural institutions and raised more than three million euros.
FUNKFAHRRAD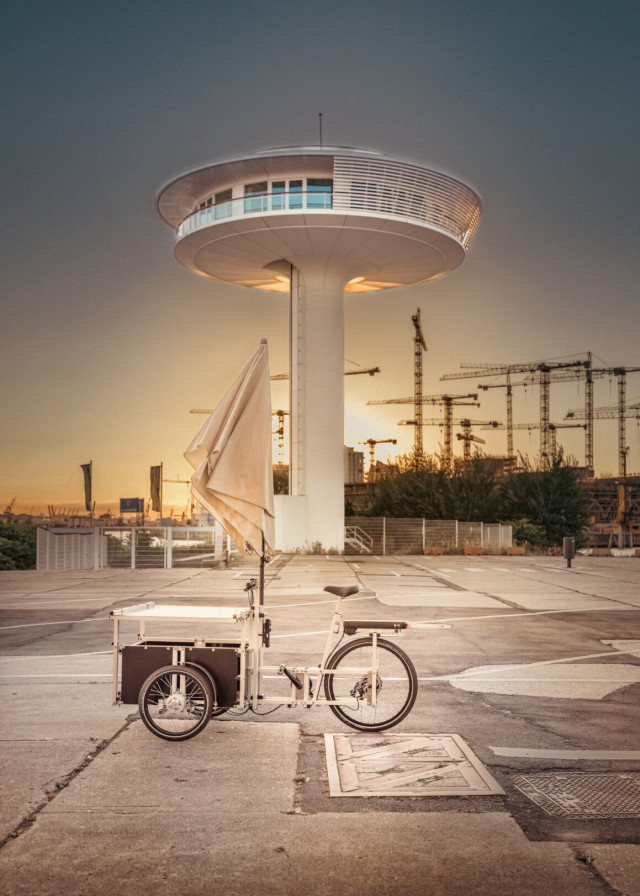 The mobile cultural vehicle is able to record and broadcast podcasts directly from street level, stage discussions in public places, organise karaoke competitions and stream movies licence-free. Plus you can also borrow the bike for free for your own projects!
The City Imagined mit/with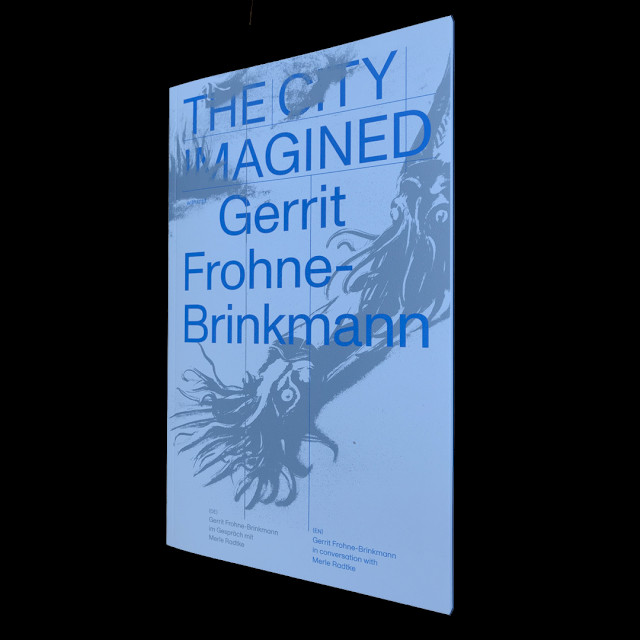 The book series documents our work at HafenCity. Order here free of charge one of the four in-depth interviews with Terence Koh, Julius von Bismarck, Benjamin Maus & Richard Wilhelmer, Liz Magic Laser & Dafna Maimon, and Gerrit Frohne-Brinkmann about the special experience of developing art within the urban fabric.
denk.mal Hannoverscher Bahnhof at Lohsepark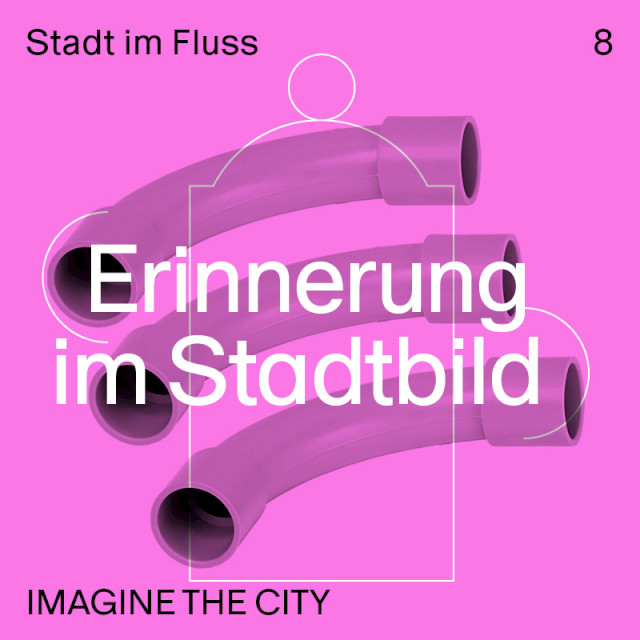 2021 was all about the 'gateway to the world'. In seven interviews, historian Sandra Schürmann looked at how Hamburg's self-image is made visible at HafenCity. This podcast episode for example deals with the question of how remembrance can be kept alive within an urban space and how important 'authentic' testimonies are in this regard.
Populär with Ellen Blumenstein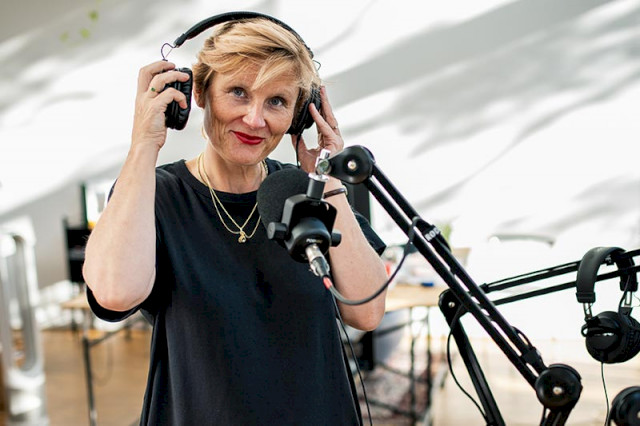 A portrait of Ellen Blumenstein in DER HAMBURGER - the Popular section presents people and projects that give the city a face. To read exclusively in our press area. section features people and projects that lend the city its face. Available to read exclusively in our Press Area.
Breathe in, breathe out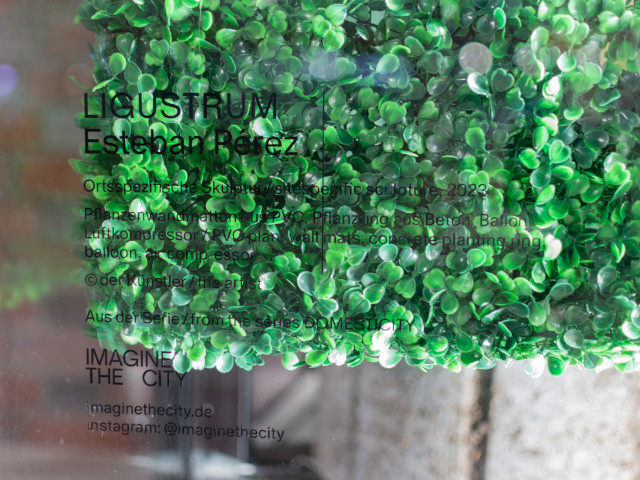 DOMESTICITY
Am Sandtorkai 46 
LIGUSTRUM by Esteban Pérez creates a particular kind of liveliness in HafenCity. 
ITC-Newsletter
Don't miss any of our activities – sign up here!
Currently on view in the Gästezimmer
From Aug. 26 to Sept. 9 is an exhibition as part of the Seefrauenparade by Jumoke Olusanmi, Dagmar Rauwald, Nilofar Rezai and Farrah Mahmood. The works accompany visitors on a journey into intimate explorations of trauma, cultural identity, and ruptures, suggesting new possible connections.
New headquarters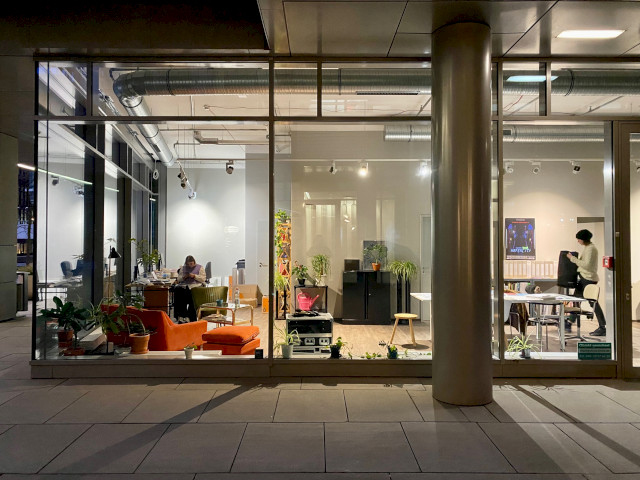 Visit us at the Coffee Plaza: from January 1 you will be able to find us at our new address with our own terrace, directly at Sandtorpark.
New Feature: our magazine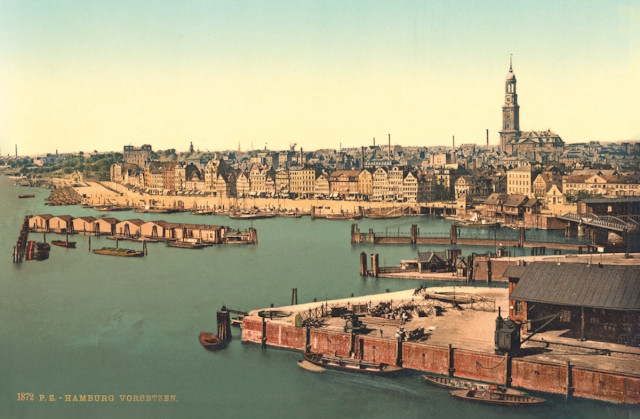 Along with our website revamp we've also introduced a new category. In our Magazine we regularly post exclusive and/or special essays that use the power of language to sketch out images of cities. From all eras and from all over the world.
By bus to art
DOMESTICITY
Our exhibition series plays out inside a display cabinet at the bus stop in front of the PIERDREI Hotel at Sandtorkai. Until 15 January 2023, you have the opportunity to see Saray Purto's HAUS WANDERER colossus comprised of discarded furniture drenched in white paint.
Photo knowledge on Telegram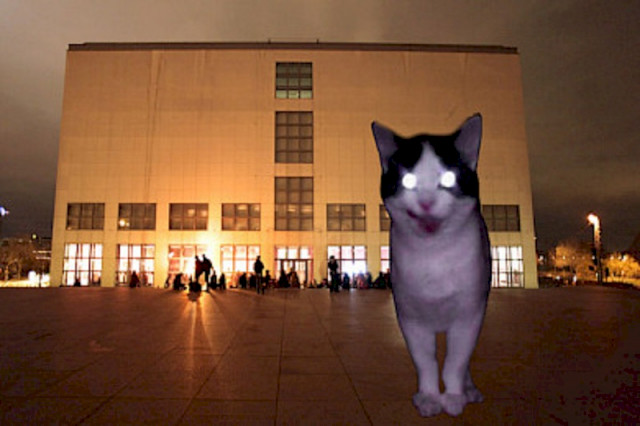 THE INVISIBLE HAND dives deep into the history and theory of photography with videos, chats and comics. As a virtual companion to the 8th Triennial of Photography, we deliberately aimed the festival motto Currency at Hamburg's urban space in the summer of 2022.
The channel remains permanently accessible and is well worthwhile even without the exhibition!
Smiley over the city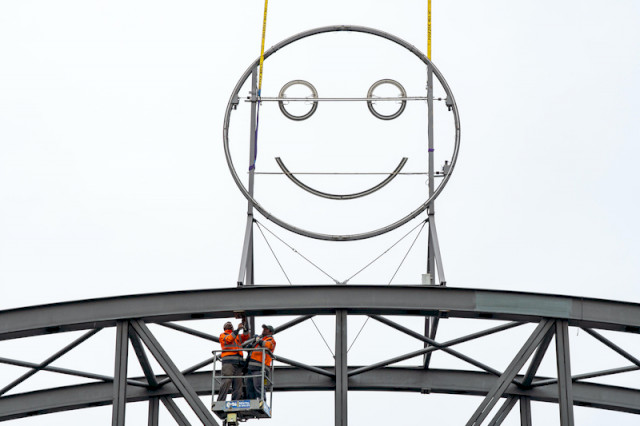 A prominent text about our first project, PUBLIC FACE. In March 2020, a detailed analysis appeared in the architecture and urbanism magazine Arch+. available online anytime.
History, Technology, Infrastructure
Space for dreaming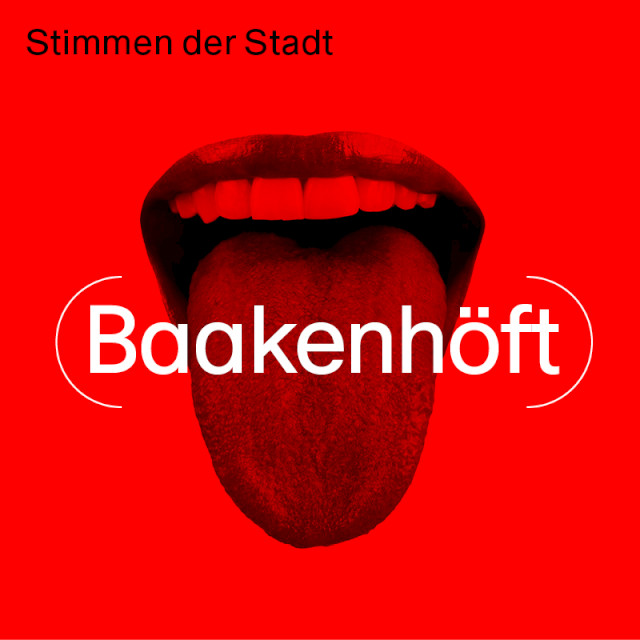 Our latest podcast feature on HafenCity's last unplanned site brings together ambitious, whimsical and visionary ideas for one of the district's most expensive pieces of real estate.
Listen on Apple Podcasts or Spotify to what Annika Kahrs, Hadi Teherani and many others have come up with for this special 'lost place' on the Elbe.
Filter Exhibition, Performance, Podcast, In Print, Hands-on, Immersion, Sculpture, Sound, History, Contemplation, Entertainment, Stage, Technology, Event, Threshold, Outdoors, Narrative, Trade, Infrastructure, Explore, Cooperation,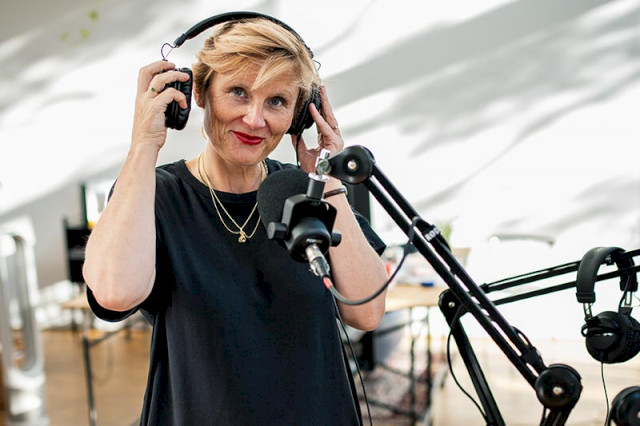 In DER HAMBURGER magazine: a profileof IMAGINE THE CITY.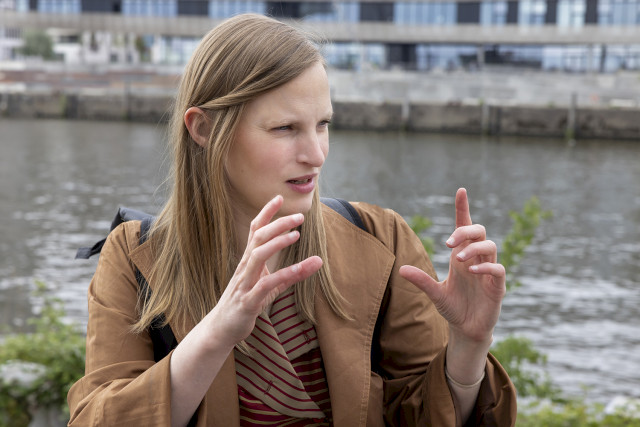 The Hamburger Abendblatt featured Annika Kahrs's installation in the old dockside warehouse.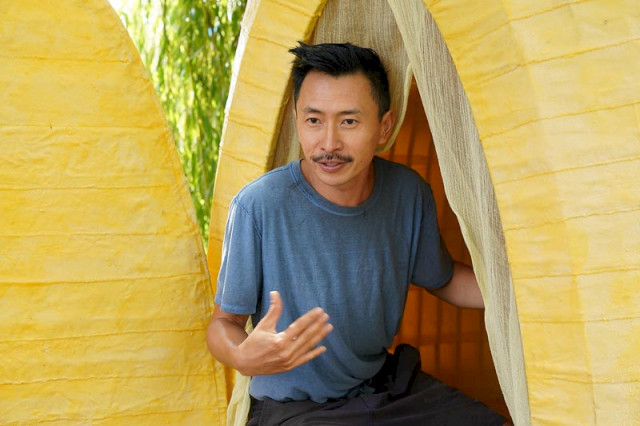 DER SPIEGEL interview with Terence Koh, talking about his BEE CHAPEL HAFENCITY.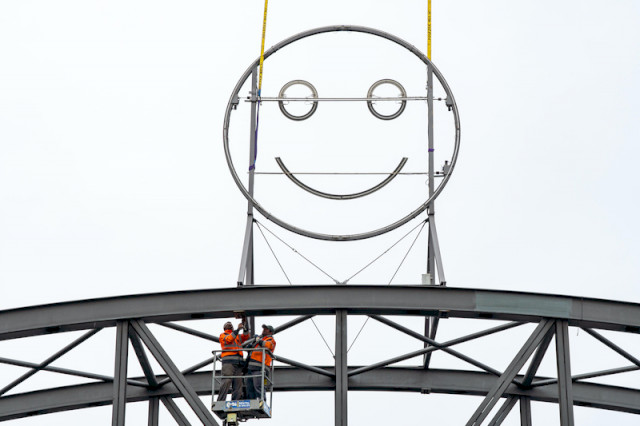 Understanding the PUBLIC FACE: in-depth analysis in Arch+.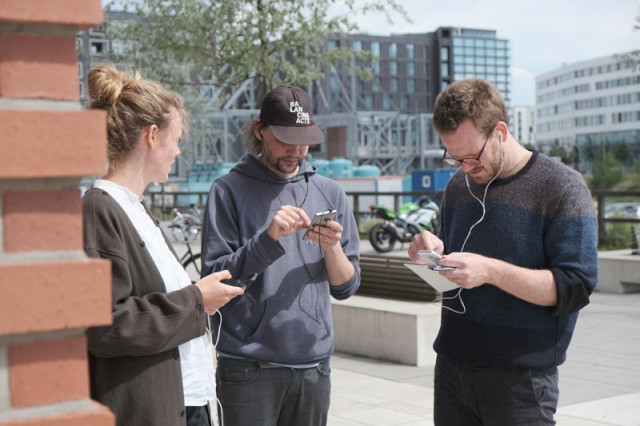 The BOTBOAT in the practical test of the ADAC travel magazine. Published in issue No. 181.
WHO WE ARE
Initiated in 2017 by Hamburg's largest development company, HafenCity Hamburg GmbH (HCH), the experimental cultural programme got underway with the appointment of Ellen Blumenstein as HafenCity Curator. The following year she adapted the programme to create IMAGINE THE CITY, a project orientated less according to her own personal input and more towards the content-related tasks with which she had been entrusted. The project itself is funded by the independent, non-profit association Kunst und Kultur in der HafenCity. HCH provides the basic funding during the pilot phase and is represented on the Association's Board in a bid to facilitate the co-ordination of the various projects. A significant portion of the required budget is secured through the acquisition of third-party funding. Since 2017, we have realised more than twenty projects involving almost 100 participants, co-operated with eight cultural institutions and raised more than three million euros. 
 
WHAT WE DO
IMAGINE THE CITY elaborates representative new formats at the interface between culture and urban planning. We incorporate artistic perspectives into the HCH's urban projects in an illustrative way while collaborating at the international level with like-minded people across all sectors of society. We look at the city from a user perspective and enable encounters with, in, and through its built-up environment so that, together, we can reformulate society's expectations of culture. In doing so, we target an aspect of the city that planning cannot 'plan' for: informal urban spaces highly charged in terms of both narrative and imagination. Practically and discursively, we contribute to shaping the future of our cities in ways that are vibrant, equitable and supportive. 
 
WHERE TO FIND US
In January 2023, IMAGINE THE CITY will be relocating to new headquarters at Coffee Plaza in HafenCity. Our premises are open on three sides, allowing us to interact directly with the outside space and enliven the site for our neighbours, cultural workers and other interested parties, whether it's through performances, film evenings, lectures or workshops. These events are aimed at everyone living a city who is keen to reflect on seemingly unconnected aspects, track down their own blind spots, and as a result help develop images or ideas of the sort of city we would all want to live in. 
 
WHAT MAKES US TICK
Our work ties in with a broad spectrum of cultural initiatives that were incorporated early on into HafenCity's development, e.g. the founding of the Oberhafen Cultural Quarter, the establishment of a number of festivals, and the promotion of temporary and/or subculture-based usage concepts. At the same time, IMAGINE THE CITY has gone beyond the scope of these previous approaches. Indeed, for the first time, we deliberately took action in a systematic, long-term, cross-project and cross-genre way, specifically in those areas where the course for our future lives together is being chartered, i.e. urban development areas. This orientation calls for new concepts, new alliances and new infrastructures that mediate between culture and urban development, stakeholders and clients, representation and activism. 
JOBS 
We are regularly on the lookout for interns. Please submit your applications to: info@imaginethecity.de
TEAM 
DIRECTOR (on maternity leave)
Ellen Blumenstein 
blumenstein@imaginethecity.de 
Always in search of new formats that convey cultural issues to a broad audience, Ellen is utterly committed to the task of thinking about culture and urban development as a consistent entity for Hamburg. At the same time, she is also associate curator at Spreepark Berlin and oversees the Reallabor Kunst im öffentlichen Raum at the University of the Arts Bremen until 2023.  
EXECUTIVE DIRECTOR 
Jonas Wietelmann 
wietelmann@imaginethecity.de 
Jonas relocated from Dresden to Hamburg in spring 2022 in a bid to help make the infrastructure of IMAGINE THE CITY shipshape. He is tasked with turning interesting concepts into doable projects, looks after our fundraising, and is also in charge of networking us far beyond the borders of Hamburg. His main focus is on digital strategies and art education technologies. 
CURATOR
Theresa Michel 
michel@imaginethecity.de 
Theresa has been a member of the IMAGINE THE CITY artistic team since 2019, working as a research assistant and co-curator for three years focusing on Hamburg's past and its trading history as well as helping to develop digital formats. Since 2022 she has taken on curatorial responsibility and is the first point of contact for project and format ideas, joint ventures – and the coining of creative titles. 
OFFICE MANAGER
Lea-Elisa Jüttner 
juettner@imaginethecity.de
Lea has been working on her Master's in Urban Design at HafenCity University since autumn 2022, elaborating repurposing strategies, urban meeting spaces and cultural formats beyond traditional institutions. Besides her office management duties, she also contributes her experience from the Hamburg Office for the Protection of Historic Buildings and as a mediator at documenta 15 to the programme work of IMAGINE THE CITY. 
INTERN
Nadine Halter 
halter@imaginethecity.de
Nadine is studying cultural and media management in her 3rd master's semester at the Hamburg University of Music and Theatre. As an intern she spends two months at IMAGINE THE CITY. She supports Jonas and Theresa in ongoing projects in planning and implementation. Through her bachelor's degree in social work she brings the focus on children and youth animation and thus sets new impulses.
 
ACCOUNTS AND ADMINISTRATION 
Anke Hollmann 
info@imaginethecity.de 
ART DIRECTION AND DESIGN 
Timm Häneke 
timmhaeneke.de 
Tobias Röttger 
stahl-r.de
WEB DEVELOPMENT
Stefan Wunderwald 
src.plus 
The website was funded within KULTUR.GEMEINSCHAFTEN. The program is funded by the NEUSTART KULTUR rescue and future package of the Beauftragte der Bundesregierung für Kultur und Medien and the Kulturstiftung der Länder.
With my brow to the glass, I was thus occupied in scrutinizing the mob, when suddenly there came into view a countenance (that of a decrepid old man, some sixty-five or seventy years of age,) – a countenance which at once arrested and absorbed my whole attention, on account of the absolute idiosyncrasy of its expression. Any thing even remotely resembling that expression I had never seen before. I well remember that my first thought, upon beholding it, was that Retzch, had he viewed it, would have greatly preferred it to his own pictural incarnations of the fiend. As I endeavored, during the brief minute of my original survey, to form some analysis of the meaning conveyed, there arose confusedly and paradoxically within my mind, the ideas of vast mental power, of caution, of penuriousness, of avarice, of coolness, of malice, of blood-thirstiness, of triumph, of merriment, of excessive terror, of intense – of supreme despair. I felt singularly aroused, startled, fascinated. "How wild a history," I said to myself, "is written within that bosom!" Then came a craving desire to keep the man in view – to know more of him. Hurriedly putting on an overcoat, and seizing my hat and cane, I made my way into the street, and pushed through the crowd in the direction which I had seen him take; for he had already disappeared. With some little difficulty I at length came within sight of him, approached, and followed him closely, yet cautiously, so as not to attract his attention.
I had now a good opportunity of examining his person. He was short in stature, very thin, and apparently very feeble. His clothes, generally, were filthy and ragged; but as he came, now and then, within the strong glare of a lamp, I perceived that his linen, although dirty, was of beautiful texture; and my vision deceived me, or, through a rent in a closely-buttoned and evidently second-handed roquelaire which enveloped him, I caught a glimpse both of a diamond and of a dagger. These observations heightened my curiosity, and I resolved to follow the stranger whithersoever he should go. 
It was now fully night-fall, and a thick humid fog hung over the city, soon ending in a settled and heavy rain. This change of weather had an odd effect upon the crowd, the whole of which was at once put into new commotion, and overshadowed by a world of umbrellas. The waver, the jostle, and the hum increased in a tenfold degree. For my own part I did not much regard the rain – the lurking of an old fever in my system rendering the moisture somewhat too dangerously pleasant. Tying a handkerchief about my mouth, I kept on. For half an hour the old man held his way with difficulty along the great thoroughfare; and I here walked close at his elbow through fear of losing sight of him. Never once turning his head to look back, he did not observe me. By and bye he passed into a cross street, which, although densely filled with people, was not quite so much thronged as the main one he had quitted. Here a change in his demeanor became evident. He walked more slowly and with less object than before – more hesitatingly. He crossed and re-crossed the way repeatedly without apparent aim; and the press was still so thick that, at every such movement, I was obliged to follow him closely. The street was a narrow and long one, and his course lay within it for nearly an hour, during which the passengers had gradually diminished to about that number which is ordinarily seen at noon in Broadway near the Park – so vast a difference is there between a London populace and that of the most frequented American city. A second turn brought us into a square, brilliantly lighted, and overflowing with life. The old manner of the stranger re-appeared. His chin fell upon his breast, while his eyes rolled wildly from under his knit brows, in every direction, upon those who hemmed him in. He urged his way steadily and perseveringly. I was surprised, however, to find, upon his having made the circuit of the square, that he turned and retraced his steps. Still more was I astonished to see him repeat the same walk several times – once nearly detecting me as he came round with a sudden movement. 
In this exercise he spent another hour, at the end of which we met with far less interruption from passengers than at first. The rain fell fast; the air grew cool; and the people were retiring to their homes. With a gesture of impatience, the wanderer passed into a bye-street comparatively deserted. Down this, some quarter of a mile long, he rushed with an activity I could not have dreamed of seeing in one so aged, and which put me to much trouble in pursuit. A few minutes brought us to a large and busy bazaar, with the localities of which the stranger appeared well acquainted, and where his original demeanor again became apparent, as he forced his way to and fro, without aim, among the host of buyers and sellers. 
During the hour and a half, or thereabouts, which we passed in this place, it required much caution on my part to keep him within reach without attracting his observation. Luckily I wore a pair of caoutchouc over-shoes, and could move about in perfect silence. At no moment did he see that I watched him. He entered shop after shop, priced nothing, spoke no word, and looked at all objects with a wild and vacant stare. I was now utterly amazed at his behaviour, and firmly resolved that we should not part until I had satisfied myself in some measure respecting him. 
A loud-toned clock struck eleven, and the company were fast deserting the bazaar. A shop-keeper, in putting up a shutter, jostled the old man, and at the instant I saw a strong shudder come over his frame. He hurried into the street, looked anxiously around him for an instant, and then ran with incredible swiftness through many crooked and people-less lanes, until we emerged once more upon the great thoroughfare whence we had started – the street of the D… Hotel. It no longer wore, however, the same aspect. It was still brilliant with gas; but the rain fell fiercely, and there were few persons to be seen. The stranger grew pale. He walked moodily some paces up the once populous avenue, then, with a heavy sigh, turned in the direction of the river, and, plunging through a great variety of devious ways, came out, at length, in view of one of the principal theatres. It was about being closed, and the audience were thronging from the doors. I saw the old man gasp as if for breath while he threw himself amid the crowd; but I thought that the intense agony of his countenance had, in some measure, abated. His head again fell upon his breast; he appeared as I had seen him at first. I observed that he now took the course in which had gone the greater number of the audience – but, upon the whole, I was at a loss to comprehend the waywardness of his actions. 
As he proceeded, the company grew more scattered, and his old uneasiness and vacillation were resumed. For some time he followed closely a party of some ten or twelve roisterers; but from this number one by one dropped off, until three only remained together, in a narrow and gloomy lane little frequented. The stranger paused, and, for a moment, seemed lost in thought; then, with every mark of agitation, pursued rapidly a route which brought us to the verge of the city, amid regions very different from those we had hitherto traversed. It was the most noisome quarter of London, where every thing wore the worst impress of the most deplorable poverty, and of the most desperate crime. By the dim light of an accidental lamp, tall, antique, worm-eaten, wooden tenements were seen tottering to their fall, in directions so many and capricious that scarce the semblance of a passage was discernible between them. The paving-stones lay at random, displaced from their beds by the rankly-growing grass. Horrible filth festered in the dammed-up gutters. The whole atmosphere teemed with desolation. Yet, as we proceeded, the sounds of human life revived by sure degrees, and at length large bands of the most abandoned of a London populace were seen reeling to and fro. The spirits of the old man again flickered up, as a lamp which is near its death-hour. Once more he strode onward with elastic tread. Suddenly a corner was turned, a blaze of light burst upon our sight, and we stood before one of the huge suburban temples of Intemperance – one of the palaces of the fiend, Gin. 
It was now nearly day-break; but a number of wretched inebriates still pressed in and out of the flaunting entrance. With a half shriek of joy the old man forced a passage within, resumed at once his original bearing, and stalked backward and forward, without apparent object, among the throng. He had not been thus long occupied, however, before a rush to the doors gave token that the host was closing them for the night. It was something even more intense than despair that I then observed upon the countenance of the singular being whom I had watched so pertinaciously. Yet he did not hesitate in his career, but, with a mad energy, retraced his steps at once, to the heart of the mighty London. Long and swiftly he fled, while I followed him in the wildest amazement, resolute not to abandon a scrutiny in which I now felt an interest all-absorbing. The sun arose while we proceeded, and, when we had once again reached that most thronged mart of the populous town, the street of the D… Hotel, it presented an appearance of human bustle and activity scarcely inferior to what I had seen on the evening before. And here, long, amid the momently increasing confusion, did I persist in my pursuit of the stranger. But, as usual, he walked to and fro, and during the day did not pass from out the turmoil of that street. And, as the shades of the second evening came on, I grew wearied unto death, and, stopping fully in front of the wanderer, gazed at him steadfastly in the face. He noticed me not, but resumed his solemn walk, while I, ceasing to follow, remained absorbed in contemplation. "This old man," I said at length, "is the type and the genius of deep crime. He refuses to be alone. He is the man of the crowd. It will be in vain to follow; for I shall learn no more of him, nor of his deeds. The worst heart of the world is a grosser book than the Hortulus Animæ (The Hortulus Animæ cum Oratiunculis Aliquibus Superadditis of Grüninger), and perhaps it is but one of the great mercies of God that 'es lässt sich nicht lesen.'"